Somato Emotional Release-Non Directive Somatic Psychotherapy S.E.R.-N.D.S.P.- The first somatic(body) psychotherapy with touch in person-centered aprroach and existential psychology. Seminars and training courses all over the Europe can be organized.
The educational programme has a duration of 5 years.
It is oriented towards psychotherapy and personal development, which are approached via the body. In this method, the body is regarded as a unified psychosomatic whole which contains all the information that someone has to become aware of, in order to be healed and to develop. This method combines the Non-Directive approach with the craniosacral therapy. The result of this combination is the comprehensive Non-Directive Somatic Psychotherapy – N.D.S.E.R. (Non-Directive Somato-Emotional Release):
FIRST YEAR OF STUDIES
Introduction to the basic principles of Non-directiveness

Experiential understanding of the method
SECOND YEAR OF STUDIES
Function of the groups within the framework of the Non-Directive Intervention approach

The suggestions

Experiential practice
THIRD & FOURTH YEARS OF STUDIES
Training in craniosacral balance

Personal growth
FIFTH YEAR OF STUDIES
Comprehensive study of the methods

Experiential practice in the combination of the methods
Additional practical training and supervision are required for the completion of the studies.
After the completion of the educational programme, a certificate of studies is provided by the Institute of Therapy & Education 'Chrysallida'.
Non Directive Somatic Psychotherapy
Somato Emotional Release N.D.S.P. – S.E.R.
A five-year educational program accomplished within 1000 hours.
1st YEAR
Introduction to Non-Directive-Interventional Method
The Customer-Oriented Therapeutic Approach (Carl Rogers)
Personality development aimed at developing empathy and unconditional acceptance
Active listening
Breath-body connection
Motion – personal energy awareness
Relaxation – opening the channels of access to the senses
Theory – first year bibliography study
2nd YEAR
Introduction to Cranio Sacral Therapy (C.S.T)
Body Awareness
Breath-motion-relaxation: Their multidimensional effect and their approach as treatment factors
Starting with the gentle touch of 5 grams
Training on how to "listen" through hands to at all levels of body of the traveler
Theory – second year bibliography study
3rd YEAR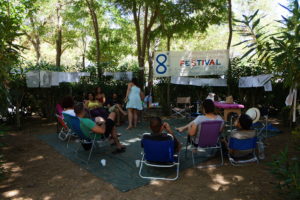 Cranio Sacral Therapy Techniques
Elements of anatomy-neurophysiology
Holistic therapeutic approach
The internal motion of the body and the beginning of life
Deepening to the psychosomatic unity of human being
Philosophy of Cranio Sacral Therapy
Theory – third year bibliography study
4th YEAR
Development and deepening onto the gentle touch of 5 grams
Therapeutic dialogue
Awakening body memory to deeper levels (at fetal age and birth)
Physical psychotherapy in groups
Theory – fourth year bibliography study
5th YEAR
Techniques on desire detection
Technique of proposals
Composition of the two methods
Theory – Fifth year bibliography study
Exercising / Practice
NOTE: The training method is experiential. This means that the theory -which in each year contains specific themes and bibliography- takes place where it is thought to be best matched with experiential information.
The program also includes 200 hours of workout that the trainees accomplish in teams on Center's premises.
Trainers
Sevastiana Koutroubanou
Psychologist-psychotherapist N.D.I
Cranio Scacral Therapist C.S.T
Somatic psychotherapist N.DS.E.R.-C.S.T
Eudokia Stamou
Psychologist-psychotherapist N.D.I
Giorgos Astrinakes
Psychiatrist – Psychotherapist N.DI.
Somatic psychotherapist, Wilhelm Reich's method
Katerina Menagia
Psychologist-psychotherapist N.D.I
Yannis Kaukas
Homeopathic Doctor